"4-day camp where young people get acquainted with water sports"
Discover the 4-day Water Adventure Camp,
where young people between the ages of 10 and 16 are introduced to water sports in a fun way.
What can you expect?
There is a lot to experience during the Water Adventure Camp. Every day the participants get at least 5 hours of sailing and/or windsurfing lessons. All kinds of cool activities are organised on and around the water. In between the activities you also have some time to do something for yourself.
You learn windsurfing
You learn to sail in an Optimist or Laser pico
Sail together over the Leekstermeer with a Polyvalk
Canoe together through De Onlanden nature reserve.
Make campfires together
Play crazy games
If the weather allows it, we will even spend the night on the water!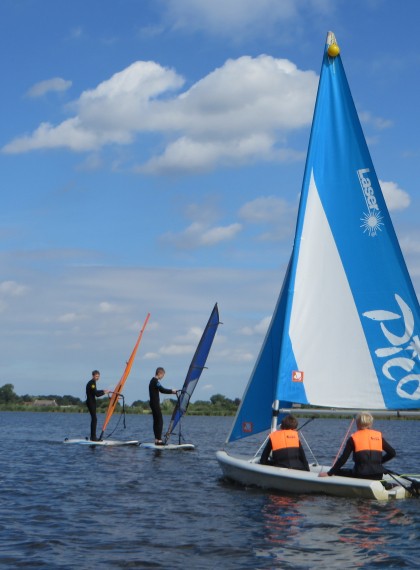 Experienced and enthusiastic instructors

The camp is supervised by super enthusiastic instructors. This year the team will consist of Floor, Hidde, Marijn and Lisabeth. The experienced instructors are eager to get out on the water during the summer weeks in July and August! The guides are ready for you day and night.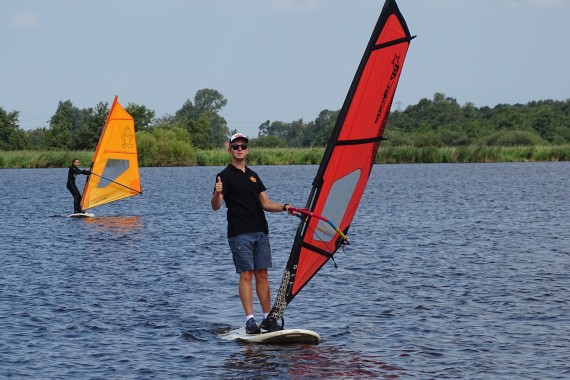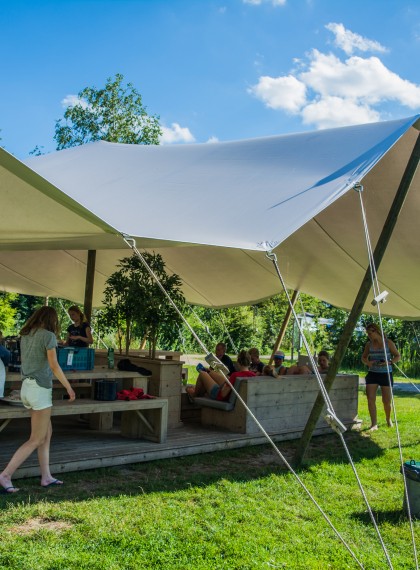 Accommodation and meals included

The 4-day camp includes accommodation and meals. You will spend the night in a tough safari tent with a maximum of 5 others. There are different tents for boys and girls. We take age into account as much as possible. The guides sleep in their own tents next to the participants.
Our chef takes care of the meals. We always eat together under the shelter. Besides the meals there is plenty of lemonade, water, tea and fruit. We make sure that you are well taken care of. And good news: the dishes are done by our staff. This leaves you more time to do fun things!
Supplies
Good preparation is half the battle! Make sure you pack the following items (please label everything with your name):
Pillow and pillowcase
Sleeping bag
Towels (preferably also a bath towel)
Toiletries
Sunscreen
Swimwear
Warm clothes


Due to the space available in the tents, it is advisable to bring a bag instead of a suitcase.
Rainwear
Old clothes (may get dirty)
Slippers
Tight solid shoes
Pocket money is optional (most participants receive € 10 to € 15 from home)
Completed and printed personal data form
What are the costs of the camp?
The price for the 4-day camp is € 280 per person.
Availability & booking
Water Adventure Camp
First choose your day of arrival, afterwards you can chose the day of departure.
Change date